Natural Soaps and Personal Care Products
A Note on Our New Shipping Policy: 
We regret to inform you that because of a significant increase by the US Postal Service, we can no longer offer free shipping in Ohio and a flat rate shipping cost for out-of-State customers tor our retail customers.
In Ohio, if your order is less than $40, shipping cost is $6.  Orders for $40 and up, shipping cost is $6.50.  For other states, the shipping cost is as follows:
| | |
| --- | --- |
| Order Amount | Shipping Cost  |
|  $1-20 | $6 |
|  $20.01-$45 | $7 |
|  $45.01-$60 | $8 |
|  $60.01-$80 | $9  |
| $80.01 and up | $10 |
We are always looking into other options for reducing our shipping costs.  When we are able to reduce shipping costs, the website will reflect any savings we can pass along to you, our customers.  Even at these new rates, shipping costs to you are still discounted.  As a small entrepreneur, I must pass along this price increase or I will not be able to stay in business. Those businesses that I purchase my bulk supplies from have also increased their shipping prices to me.  I hope that you understand that a small business struggles to stay in business on a regular basis.  
SEASONAL SPECIALS
SOAPS: Hand & Garden Soap  $ 5.00
        Bye Bye Bugs Soap    $ 5.00
        Citrus Splash          $ 5.00
       Cinnamon Spice        $ 5.00
Honey Oatmeal Goat Milk    $ 5.00
      Peppy Mint             $ 5.00
MOISTURIZERS: Whipped Shea Butter  $ 12.00
Body & Bath Body Oils 2 ounce bottle  $ 8.00
Earthy Skin Quencher Oil  2 ounce bottle $ 12.00
Emphasizing An Herbal-Based Approach to Gentle Skincare
All Products Are Handcrafted
by Kristina Laszlo
740-385-0040 or kris@withnatureinmind.com
Looking for a truly natural soap? Kristina Laszlo, owner and creator of With Nature In Mind has the soap you are looking for. We have been making natural soaps and body care products for over 16 years. All of our products are handmade from scratch. See the Real Handmade Soap website to find more about what that means to you. Many "natural" soaps actually contain ingredients that are not natural. For example synthetic fragrances and oxides and ultramarines for color are all chemically manipulated. For more information about these ingredients, see the Soap Facts section.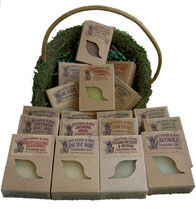 The products are handcrafted and made with care. Each ingredient is chosen for a specific purpose to provide you with a superior, all natural product. You can trust that these products are gentle on your skin and gentle on your Earth. The Soap Facts section shares our philosophies, information about ingredients, training, and other musings.
Having a love for the natural world, it is important to help protect that world by using all natural, synthetic-free products. That is why I bring to you the finest, all natural, herbal skin care products available!
Please note that the FDA has not evaluated any of the claims made regarding skin healing properties that are listed on this site. However, there are volumes of empirical evidence to support these claims.